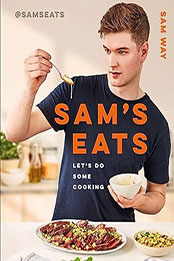 Title: Sam's Eats: Let's Do Some Cooking
Author: Sam Way
Pages: 230
Publisher (Publication Date): Voracious (November 14, 2023)
Language: English
ISBN-10, ISBN-13 or ASIN: 031656687X
Download File Format:EPUB
Loved by more than 13 million followers for his recipe videos, Sam Way is your go-to guide to make deliciously simple gourmet-level food for every occasion.
From a beautifully executed brunch to a quick mid-week dinner, the perfect sharing platters to an indulgent all-out feast with family and friends, this book is packed with delicious new recipes that celebrate bold flavors and fresh, seasonal produce, plus plenty of tips and hacks for quick fixes at home. With each chapter framed around one of Sam's signature 'make from scratch' dishes, you'll find recipes for:
PB&J Brioche French Toast
Ultimate Mac and Cheese
Gnocchi Carbonara
Pork Ribs with Cucumber Slaw
Korean Fried Popcorn Chicken
Chicory, Blue Cheese & Grapefruit Salad
Strawberry Cheesecake Ice Cream
and more!
This is restaurant-quality food made accessible and easy. Whether you love to host friends, want to impress on your next date night, or you're simply looking for new ways to use up the spare ingredients in your cupboards, Sam's Eats is your perfect kitchen companion.
So, what are you waiting for? Let's do some cooking!