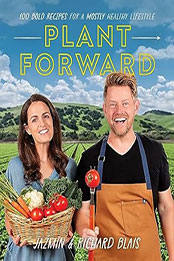 Title: Plant Forward: 100 Bold Recipes for a Mostly Healthy Lifestyle
Author: Richard Blais
Pages: 304
Publisher (Publication Date):Victory Belt Publishing (October 31, 2023)
Language: English
ISBN-10, ISBN-13 or ASIN: 1628601353
Download File Format:EPUB
Next Level Chef co-star and Bravo's Top Chef All-Stars winner Richard Blais and his wife, Jazmin, deliver 100 bold & stylish recipes that cast veggies in the starring role on your plate.
In their new book, Plant Forward, the Blaises open their kitchen to show you how they eat and maintain healthy habits when the TV cameras are off. Using humor and heart, Richard details how he found his path to health by moving meat to the side in favor of a more plant-centric diet. He teams up with Jazmin to show you how to have fun with cooking, taking produce to an entirely new level without having to abandon meat or dairy entirely—think Zucchini al Pastor and Carrot Hotdogs!
Each chapter focuses on a particular veggie or category of plant foods, from cauliflower to greens to tomatoes to whole grains, showcasing many of the diverse ways in which it can be prepared. The recipes feature Blais's creative signature style but remain approachable for time-strapped individuals and families. With this array of innovative flavor combinations and flexibility, get ready to embark on the ultimate cooking and eating adventure.
Sample Recipes:
Tomato and Watermelon Poke
Jerk Cauliflower Steaks
Potatostones
Broccoli Top Pesto with Kale and Whole Wheat Spaghetti
Zucchini Fritters with Parmesan
Carrot Osso Bucco with Polenta
The Blended Mushroom Burger
Eggplant and Chickpea Samosas
Anytime Almond Biscuits
Plant Forward is complete with full-color photos, pantry upgrades, and the Blais cheat sheet—a weekly guide to staying on track.
Learn how to achieve balance and fall in love with cooking again with the Blaises. Whether you are a seasoned chef yourself or a humble home cook, Plant Forward will help you achieve your healthy eating goals and challenge culinary norms with one of America's most dynamic and inspiring foodie couples.