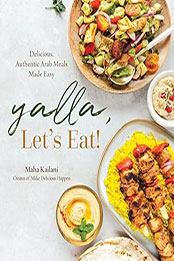 Title: Yalla, Let's Eat!: Delicious, Authentic Arab Meals Made Easy
Author: Maha Kailani
Pages: 176
Publisher (Publication Date):Page Street Publishing (November 14, 2023)
Language: English
ISBN-10, ISBN-13 or ASIN: 1645678857
Download File Format:EPUB
Simple, Modernized Recipes for Traditional Arabic Cuisine
Making your favorite Arab dishes is easier than ever with this contemporary guide to effortless Middle Eastern cooking from Maha Kailani, creator of Make Delicious Happen. These showstopping recipes honor all the vibrant flavors of traditional Arab cuisine but use quick shortcuts and helpful appliances like the Instant Pot® and Air Fryer to cut down on prep and cook time. Breeze through incredible yet simplified recipes such as:
Flavor Bomb One-Pot Chicken Kabseh
Skillet Beef Shawarma
Dawood Basha (Syrian- Style Kofta Meatballs and Pomegranate Potato Casserole)
Quick Palestinian Msakhan Rolls
Traditional Tangy Tabbouleh
Classic Lebanese Fattoush
Cheat Baba Ghanouj
Deconstructed Makdoos on Flatbread
Labneh Toast with Za'atar, Mint and Honey
Blender Orange Olive Oil Bundt Cake
30-Minute Knafeh Skillet
Thanks to Maha's ingenious methods for cutting down time and effort in the kitchen, you'll spend less time cooking and more time gathered around the table, sharing delicious Arab cuisine with those you love.