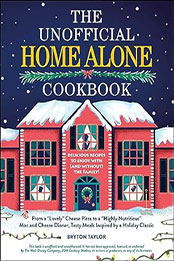 Title: The Unofficial Home Alone Cookbook: From a "Lovely" Cheese Pizza to a "Highly Nutritious" Mac and Cheese Dinner, Tasty Meals Inspired by a Holiday Classic
Author: Bryton Taylor
Pages: 160
Publisher (Publication Date):Adams Media (October 31, 2023)
Language: English
ISBN-10, ISBN-13 or ASIN: 1507221258
Download File Format:EPUB
Relive the magic of the iconic moments with these 75 recipes inspired by the cult-classic holiday movie Home Alone.
It's your kitchen…you have to defend it! Whether you're fending off the Wet Bandits or just a hungry family trying to snag the coveted last slice of cheese pizza, The Unofficial Home Alone Cookbook is here to keep hunger at bay. From appetizers and main dishes to refreshing drinks and holiday-worthy desserts, this book features 75 recipes inspired by Home Alone!
Try recipes like:
-"Highly Nutritious" Mac and Cheese: Enjoy with a goblet of milk for a meal of champions
-Lovely Cheese Pizza: All for you, right down to the last slice
-"Eating Junk and Watching Rubbish" Sundaes: Eat all the junk you want…no one is here to stop you!
-And much more!
Perfect for nostalgic Home Alone fans looking to recreate that "I made my family disappear!" magic or families who are enjoying the movie together for the very first time, The Unofficial Home Alone Cookbook has all the recipes you'll need to make a meal worthy of Kevin McCallister himself.