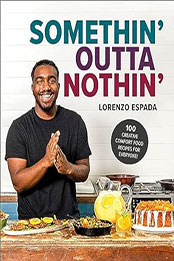 Title: Somethin' Outta Nothin': 100 Creative Comfort Food Recipes for Everyone
Author:Lorenzo Espada
Pages: 256
Publisher (Publication Date): DK (November 14, 2023)
Language: English
ISBN-10, ISBN-13 or ASIN: 0744088364
Download File Format:EPUB
Learn to make 100 delicious comfort food recipes outta nothin' with the debut cookbook from social media chef Lorenzo Espada
Lorenzo Espada, aka @eatwitzo, has a slogan he lives by: Let's make somethin' outta nothin'. Growing up, his mother and father always made a way out of nothing, whether it was making ends meet, making a good time out of a bad one, or simply just creating a good vibe out of thin air.
Now, Zo cooks delicious comfort food recipes on social media for millions of people. But when he was beginning his culinary journey, he had no plan for what his next steps would be. With those five words ringing in his ears, he was able to make something out of nothing, by teaching himself to cook and growing his audience from the ground up. In his first full-length cookbook, he's sharing his delicious, creative twists on traditional comfort food classics, like Twice-Baked Loaded Chicken and Broccoli Potatoes, Crab Cake Stuffed Cheddar Biscuits, and Peach Cobbler Pound Cake, for the first time.
Along the way, he provides tips and tricks for beginner chefs who are just starting to explore their skills in the kitchen. No matter where your own cooking journey takes you, Zo's going to teach you how to make somethin' outta nothin'.