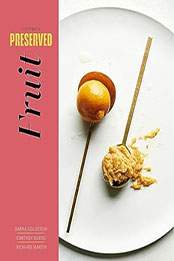 Title: Preserved: Fruit
Author: Darra Goldstein
Pages: 112
Publisher (Publication Date): Hardie Grant (October 31, 2023)
Language: English
ISBN-10, ISBN-13 or ASIN: 1958417114
Download File Format:EPUB
Fruit is by its nature ephemeral, making preserving it something of a necessity. Most often this leads to jams and jellies, but what about the less expected outcomes of fruit preserving, ones that create a dynamic interplay of sweet and spicy, or sweet or bright? Preserved: Fruit offers a new template for fruit preserving with recipes for the Mexican chile sauce Chamoy, to drape over ripe mangoes; pickled green strawberries adding a pop of bright acidity to cheese plates; and a pomegranate molasses to drizzle over grilled meats. For those inclined towards uncomplicated sweetness, there is the classic brandy soaked Tutti Frutti to spoon over ice cream (or bake into a cake), and the delicately fragranced cherry and rose petal jam.
Packed with history, kitchen inspiration, and unabashedly delicious recipes—all gorgeously photographed—Preserved: Fruit is your guide to new culinary adventures.