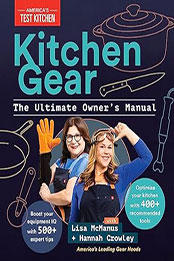 Title: Kitchen Gear: The Ultimate Owner's Manual: Boost Your Equipment IQ with 500+ Expert Tips, Optimize Your Kitchen with 400+ Recommended Tools
Author: America's Test Kitchen
Pages: 432
Publisher (Publication Date): America's Test Kitchen (November 7, 2023)
Language: English
ISBN-10, ISBN-13 or ASIN: 1954210698
Download File Format:EPUB
Leading kitchen gear experts Lisa McManus and Hannah Crowley share what they really think about Dutch ovens, air fryers, grills, and more in this indispensable handbook for gear heads everywhere
The perfect gift for fledgling cooks, newlyweds, cooking nerds, and new homeowners
Ever wondered why your knives dull so quickly? Whether it's safe to stand next to a running microwave? If compostable dinnerware is really better for the environment?
With its combination of straight-talking, science-backed advice from professional equipment reviewers Lisa McManus and Hannah Crowley, practical how-to guides, engrossing trivia, and beautiful full-color photography, Kitchen Gear is an indispensable source of collected wisdom you won't find anywhere else.
Hannah and Lisa's unfiltered takes on which pieces are (and aren't) worth it: Spring for the high-end blender; rethink that knife block. And did you know you can make pour-over coffee with a dollar-store funnel?
Improve your cooking with 100+ recipes that teach you what your gear is capable of: Use your sheet pan to make the easiest-ever layer cake. Make crispy fried garnishes in your microwave. Plus, use common tools in creative ways—fully-loaded nachos on the grill, anyone?
Answers to all the hows, whys, and "wait, what?"s of your equipment: The question-and-answer format covers everything from frequently asked questions to real head-scratchers.
Keep your tools in top condition: Season your pans the right way, de-stinkify silicone ice trays, and finally get that gunk off your toaster oven.
Peek behind the scenes: Read all about the zany lengths Lisa, Hannah, and their team will go to for answers—from sawing coolers in half to programming knife-wielding robots.
Stock your kitchen with the best of the best: A buying guide points you to the top performers from America's Test Kitchen's rigorous reviews.