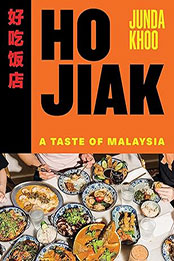 Title: Ho Jiak: A Taste of Malaysia
Author: Junda Khoo
Pages: 239
Publisher (Publication Date): Hardie Grant Books (January 31, 2024)
Language: English
ISBN-10, ISBN-13 or ASIN: 1743799357
Download File Format:EPUB
Journey to Malaysia with chef Junda Khoo in his new cookbook, Ho Jiak. Featuring more than 100 staple dishes, this rich collection of recipes showcases a dynamic cuisine steeped in tradition, from street food classics to true homestyle cooking.
Ho Jiak, translating to 'good eats', is Khoo's modern interpretation of Malaysian cuisine. Owning one of the best restaurants in Australia, Ho Jiak Town Hall, Khoo draws inspiration from the recipes passed down to him from his beloved amah (grandmother) as well as the street vendors of Malaysia. Now, he brings these authentic and vibrant dishes to you.
Starting with simple, budget-friendly meals to cook in 15 minutes, you'll then be shown how to make all the must-know hawker-style dishes like Nasi lemak and poached juicy Hainan chicken. Alongside the quick bites, Khoo also introduces nourishing homecooked meals, like crimson bowls of curry laksa as well as dishes that are not commonly served in eateries outside of Malaysia. Think lotus roots steeped in a pork bone broth and fried bee hoon – a smoky, umami vermicelli noodle dish.
Whether you're a travelled food connoisseur or simply wanting to expand your recipe repertoire with authentic cooking, Ho Jiak will help you to celebrate just what makes Malaysian food so special.