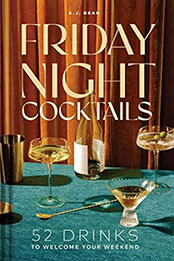 Title: Friday Night Cocktails: 52 Drinks to Welcome Your Weekend
Author:AJ Dean
Pages: 152
Publisher (Publication Date):The Collective Book Studio (November 7, 2023)
Language: English
ISBN-10, ISBN-13 or ASIN:1685554865
Download File Format:EPUB
Friday Night Cocktails invites readers to welcome their weekend with open arms… and a Negroni Sbagliato.
"With its elegant photographs and gleaming, gilt-letter packaging, Friday Night Cocktails is a crowd-pleasing guide for those who raise their glasses to the weekend." –Foreword Reviews
Friday Night Cocktails is for anyone interested in a well-made, non-fussy, homemade mixed drink. The 52 cocktails (plus numerous variations) are made with common ingredients that readers can easily keep on-hand. Including old stand-bys (e.g., Gin & Tonic) as well as new takes on the standards (e.g., Blood Orange Margarita), the book's message is "Try something new, but be mindful of the tried-and-true."
With 50+ stunning images, Friday Night Cocktails closes the door on the week and welcomes the weekend. And what better way to do that than with a chilled cocktail?