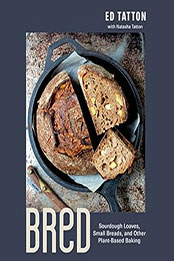 Title: BReD: Sourdough Loaves, Small Breads, and Other Plant-Based Baking
Author: Ed Tatton
Pages: 376
Publisher (Publication Date):Penguin Canada (November 7, 2023)
Language: English
ISBN-10, ISBN-13 or ASIN: 0735244448
Download File Format:EPUB
Vegan chef and artisan bread-maker Ed Tatton shares techniques and 100 recipes for making naturally leavened sourdough loaves, small breads, and earth-friendly small baked goods.
Sourdough bread is naturally vegan—flour, water, and salt transformed into extraordinary, delicious bread. Ed Tatton, vegan chef, artisan bread-maker, and co-owner of the popular vegan café and bakery BReD with Natasha Tatton, has been baking and refining his recipes and techniques for naturally leavened sourdough for many years—including a wide array of boules, baguettes, loaves, flatbreads, buns, and pizza. As required, he uses plant-based alternatives in some savoury and sweet sourdoughs that would traditionally include dairy (butter, milk, or buttermilk) including panettone buns, hot cross buns, sticky buns, cinnamon buns, English muffins, brioche, and babka. Inside BReD, you'll find these perfected recipes to start your journey in bread-making; along with a detailed sourdough starter guide with step-by-step visuals on making and maintaining a sourdough starter, levain, mixing, shaping, and baking methods.
BReD is a complete plant-based book for bakers that goes beyond just making bread. Experienced bakers and novices alike can take their baking to the next level with gorgeous vegan baked goods from cakes, muffins, and scones to biscuits, cookies, and tarts. Passionate about a vegan lifestyle for the benefit of all people and the planet, the book also includes gluten-free recipes (bread and other baked goods), discard starter recipes to further zero-waste efforts, and an offering of dips, spreads, and accompaniments to complement the breads.