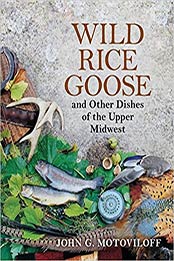 Title:Wild Rice Goose and Other Dishes of the Upper Midwest
Author:John G. Motoviloff
Pages:167
Publisher (Publication Date):University of Wisconsin Press; 1st edition (July 8, 2014)
Language: English
ISBN-10, ISBN-13 or ASIN:029929904X
Download File Format:EPUB
This is your guide to cooking wildfoods that you can hunt, fish, or forage—or buy from a growing number of wildfoods vendors—in the Upper Midwest. You'll savor treasured recipes like Rabbit Pie, Venison Stew, Orange Pheasant, Morel Mushroom Scramble, and Cathy's Plum Lake Bluegill. You'll also discover a wealth of dishes reflecting the region's ethnic riches—from Hassenpfeffer to savory Pierogies with Oyster Mushrooms, from flaky-crusted Goose Tortiere to Catfish Curry.
Wild Rice Goose also revives overlooked dishes popular in times past. If you have carp, redhorse, smelt, or turtle, dandelion greens or mulberries, you can turn these humble finds into tasty treats with tips from experienced fishermen and foragers. Cooks will appreciate the clear, kitchen-tested recipes, and fans of sporting literature will enjoy the lyrical writing.