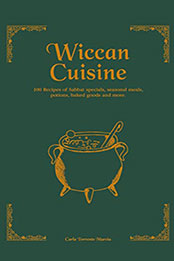 Title: Wiccan Cuisine: Cookbook
Author: Carla Torrents
Pages:
Publisher (Publication Date): June 4, 2022
Language: English
ISBN-10, ISBN-13 or ASIN: B0B25QLJDB
Download File Format:EPUB
Wiccan Cuisine Cookbook (available for tablet or smartphone with the free Kindle App)
In this cookbook you will find 100 recipes to celebrate Mother Nature by following the pagan Wheel of the Year. From simple and delicious meals to elaborate Sabbat specials and potions, you will put your kitchen witchery abilities into practice and learn to balance energies and help others through food and its magical properties.
– Language: English
– JUST AVAILABLE FOR TABLET OR SMARTPHONE WITH THE FREE KINDLE APP
About the author
Carla Torrents is a cooking and magic influencer born in Barcelona in 1996.
After finishing her degree in Advertising and Public Relations and a master's degree in Art Direction, she moved to Austria, where she started writing the cookbook "Wiccan Cuisine", her first book, and "El Sentido de la Maravilla", her first novel.
She currently lives with her cat Bryce in a small village on the Catalan coast, by the sea and close to her friends, where she continues creating, cooking, reading and writing.