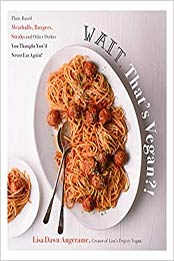 Title: Wait, That's Vegan?!: Plant-Based Meatballs, Burgers, Steaks and Other Dishes You Thought You'd Never Eat Again!
Author: Lisa Dawn Angerame
Pages: 192
Publisher (Publication Date): Page Street Publishing; 1 edition (February 4, 2020)
Language: English
ISBN-10: 1624149707
Download File Format: EPUB
Genius Plant-Based Takes on All Your Favorite Dishes
Seasoned vegan chef Lisa Dawn Angerame, founder of Lisa's Project: Vegan, has developed incredibly tasty, shockingly hearty and amazingly accurate vegan versions of all those meat, fish and dairy dishes you still crave. With Lisa's savvy plant-based meals, eating vegan will never again mean giving up the flavors you love. Recipes include:
• Carrot Lox
• Crabless Cakes
• Lentil Bolognese
• Meatless Meatballs
• Chickpea Scampi
• Crispy Tempeh Bacon BLTs
• Eggless Egg Salad
• The Beet Burger
This mouthwatering collection of recipes will have you whipping up such creamy, decadent and rich meals that you'll have to stop and ask yourself: Wait, that's vegan?!