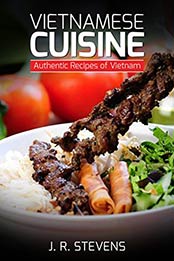 Title: Vietnamese Cuisine: Authentic Recipes of Vietnam
Autor: J. R. Stevens
Pages: 70
Publisher (Publication Date): December 30, 2015
Language: English
ISBN-10:
ASIN: B01A1H0M2C
Download File Format: EPUB
Vietnamese Cooking the True Healthy Cuisine of Asia
Famous for fresh flavors, lively and artfully composed meals, Vietnamese cooking is a true "healthy cuisine" of Asia. Abundant fresh herbs and greens, delicate soups and stir-fries, and well-seasoned grilled dishes served with rice or noodles are the mainstays of the Vietnamese table. Lots of fish and tofu meals. Even beloved desserts.
Along with its delicate freshness, Vietnamese cooking is also subtle and sophisticated. At its best when its flavors are balanced between salty, sweet, sour and hot, Vietnamese cooks strive for a balance of flavors so no one taste outranks any other.
Vietnamese Cuisine features over 40 recipes, from soups and stir-fries to well-seasoned grilled foods served with rice or noodles. Each is packed with fresh herbs and spices. This is a great addition to your cookbook library.
Easy Vietnamese recipes include:
Hollow Donuts
Crab Soup
Smoked Duck Sandwiches
Garlic Lime Beef
Pork & Pate Sandwiches
Creamy Tofu Broccoli Curry
Pork Stuffed Squid
Red Bean Coconut Pudding
Steamed Banana Rice Cakes
Sesame Fried Rice Balls
Todays cooks will find preparing a Vietnamese meal rewarding and relatively easy. And with the widespread popularity of Asian foods, locating ingredients is not a challenge—most supermarkets now carry such basics as fresh ginger, lemongrass and chilies. Making delicious Vietnamese food at home has never been easier!