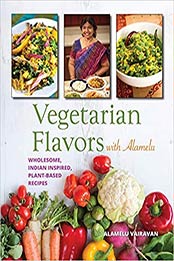 Title:Vegetarian Flavors with Alamelu: Wholesome, Indian Inspired, Plant-Based Recipes
Author:Alamelu Vairavan
Pages:243
Publisher (Publication Date):Hippocrene Books (November 24, 2020)
Language: English
ISBN-10, ISBN-13 or ASIN:078181412X
Download File Format:EPUB
All the best vegetarian recipes from Alamelu's cookbooks and TV show, plus many new ones!
Alamelu Vairavan, host of the popular PBS Create show "Healthful Indian Flavors with Alamelu" has been teaching viewers how to embrace vegetables and protein-rich legumes with her flavorful, easy-to-follow recipes for years. Now all her vegetarian favorites are available in one volume, for home cooks who want creative, palate-pleasing ways to prepare wholesome vegetables like kale, cauliflower, radishes, eggplant, swiss chard, squashes and much more. These recipes are low-calorie, low-fat and packed with nutrients, fiber and flavor!
Included are over 100 recipes, featuring many new ones that enhance vibrant vegetables with spices and legumes. They range from appetizers, soups, salads and vegetable entrees to chutneys and desserts, and each one is accompanied by a full-color photo and step-by-step instructions. Also included is a helpful guide to Indian spices and ingredients. Fans rave about how easy and fool-proof Alamelu's recipes are—making nutritious, Indian-inspired meals will be a snap!
Sample recipes:
Butternut Squash in Tamarind Sauce
Baby Kale in a Garlic-Lentil Sauce
Stir-fried Beets with Coconut
Sweet Potato, Black Beans & Spinach Wraps
Asparagus with Shallots and Garlic
Black-eyed Peas Masala
Eggplant and Potato Masala
Bell Pepper and Tomato Rice with Cashews
Chickpeas with Ginger and Mango
Parsnips with Green Peas
Colorful Vegetable Quinoa
Mango Lassi