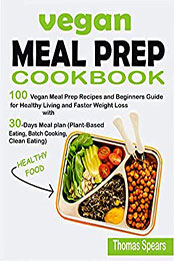 Title: Vegan Meal Prep Cookbook: 100 Vegan Meal Prep Recipes and Beginners Guide for Healthy Living and Faster Weight Loss with 30-Days Meal Plan (Plant-Based Eating, Batch Cooking, & Clean Eating)
Author: Thomas Spears
Pages: 208
Publisher (Publication Date):December 14, 2018
Language: English
ISBN-10, ISBN-13 or ASIN: B07LDDSJQ1
Download File Format:EPUB
Living the vegan lifestyle can be easier when ready-to-go and healthy plant-based meals are available whenever you are hungry. Vegan meal prep ensures the availability of healthy plant-based meals and snacks that will keep you sustained on your weekly meal rotation. This book is an action-oriented package that introduces you to vegan meal prep in such a simple yet profound way, with 100 delicious vegan meal prep recipes and a 30-day meal plan that will cover your needs. This book contains:
•A Beginners Kick-Start Guide
•Different Meal Prep Methods: to help you choose what works best for you
•How To Effectively Plan Your Meals
•Building a Shopping List that is Practical
•Meal Prepping and Storage
•Storage Tools and Other Equipment
•A 30 Day Meal Plan with 100 Delicious Recipes
•Benefits of Vegan Meal Prep
•Useful Hacks and Tips
•Tips to Vegan Meal Prepping Easier, and more.
You will find this vegan meal prep cookbook very useful as a newbie or expert with several scrumptious, nourishing and rich meals that can be included into diet. Live the plant-based lifestyle to maximum!