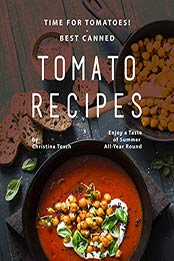 Title:Time for Tomatoes! – Best Canned Tomato Recipes: Enjoy a Taste of Summer All-Year Round
Author: Christina Tosch
Pages: 107
Publisher (Publication Date): November 2, 2020
Language: English
ISBN-13: 9798557893824
Download File Format:EPUB
Thanks to the versatility of canned tomatoes that you are never far away from preparing your next great family meal.
From lite-bites and mains to sides, dips and sauces, discover 40 different ways to cook using canned tomatoes.
Whole, cherry, diced, crushed, chopped, or flavored with herbs and seasonings, canned tomatoes are an inexpensive store-cupboard essential.
Find out how to take this incredible ingredient way beyond Bolognese! A recipe for success, canned tomatoes are ideal for pasta, stew, curry, chili, salsa, jam, and more!
What's more, canned tomatoes have a long shelf life and can help you create quick, tasty and pocket-friendly recipes, including:
• Baked Cod with Tomatoes, Navy Beans and Olives
• Creamy Avocado Manicotti
• Nacho Pastry Triangles with Salsa-Ranch Dip
• Peach BBQ Glazed Chicken
• Cauliflower in Tomato Sauce
• Italian Tomatoes and Green Beans
• Meat-Stuffed Zucchini Boats
• Persian Eggplant and Tomato Dip
Whether they are blended, pureed, stewed, or boiled, there are so many mouth-watering recipes that you 'can-do' with a simple can of tomatoes!