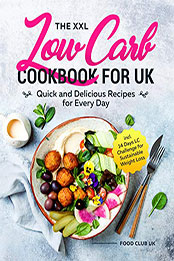 Title: The XXL Low Carb Cookbook for UK: Quick and Delicious Recipes for Every Day incl. 14 Days LC Challenge for Sustainable Weight Loss
Author:Food Club UK
Pages: 110
Publisher (Publication Date): March 12, 2021
Language: English
ISBN-10, ISBN-13 or ASIN: 9798720891275
Download File Format:EPUB
The XXL Low Carb Cookbook for UK
Quick and Delicious Recipes for Every Day
♦ incl. 14 Days LC Challenge for Sustainable Weight Loss ♦
We all know how difficult it is to lose weight. It seems extremely easy to put weight on but to lose it? Harder than ever. Fad diets are going to lead you down an unhealthy and unsustainable route, but cutting your carb intake could give you the perfect route towards weight loss that is sustainable over the long-term.
The XXL Low Carb Cookbook For UK is your go-to for everything low-carb. Packed with information, guidance, and delicious recipes to try, this is a book that will show you without doubt that cutting your carbs doesn't mean denying yourself or feeling hungry. If anything, going down the low carb route will make you feel fuller than ever before, and you'll soon see that there are countless delicious and easy recipes you can make without a huge amount of guidance.
This book will show you:
• How to follow a low carb diet
• How to remain fit and healthy whilst in ketosis
• How to create delicious meals, including breakfasts, lunches, dinners, and desserts
• How to follow a 14 day meal plan, designed with sustainable weight loss in mind
• How delicious and easy following the low carb lifestyle can be!
As a useful bonus, at the end of the book you'll find 14 days of meal plans, challenging you to follow a low carb route for the first two weeks of your journey. By then, you'll quickly see that low carb doesn't mean low quality, and you'll also notice the scales starting to decrease.
No more fad diets, no more hunger, no more cravings! Go down the low carb route and find out how much fun losing weight can actually be.