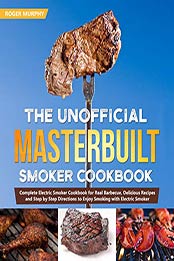 Title: The Unofficial Masterbuilt Smoker Cookbook: Complete Electric Smoker Cookbook for Real Barbecue, Delicious Recipes and Step by Step Directions to Enjoy Smoking with Electric Smoker
Autor: Roger Murphy
Pages:
Publisher (Publication Date): November 14, 2019
Language: English
ASIN: B081J81BLW
Download File Format: EPUB
The Ultimate Electric Smoker Cookbook:
SMOKING MEAT: By Roger Murphy
The ultimate cookbook for your Masterbuilt smoker, use this complete guide to smoke all types of meat, seafood, veggies, and game. An essential cookbook for smoking meat includes photographs, clear instructions and step-by-step directions for each recipe.
The only guide you will ever need to professionally smoke a variety of food, including beef, pork, ham, lamb, fish and seafood,chicken and turkey, vegetable, and game recipes such as:
COWBOY RANCH STEAK WITH ROSEMARY MARROW BUTTER
WAGYU BEEF HOT DOGS WITH SMASHED AVOCADO
HERB-STUFFED PORK CHOPS
MESQUITE-SMOKED PORK SAUSAGES WITH HONEY MUSTARD
BLACKBERRY BOURBON GLAZED DOUBLE-SMOKED SPIRAL HAM
POMEGRANATE-PEACH GLAZED DOUBLE SMOKED HAM
HICKORY SMOKED LAMB RACK
ULTIMATE MOIST SMOKED LAMB SHOULDER
SMOKED CHICKEN THIGHS WITH CREAMY COLESLAW
APPLEWOOD SMOKED TURKEY WITH CIDER-BOURBON GRAVY
BEER-BRINED SMOKED CATFISH WITH ORANGE HOT SAUCE
GRILLED LOBSTER TAILS WITH SMOKY PAPRIKA BUTTER
JUMBO SHRIMP IN BBQ PEPPER SAUCE
ASIAN MARINATED WILD SMOKED GOOSE
BUTTERNUT SQUASH AND MAPLE SYRUP SOUP
CHERRY SMOKED POTATOES
The book includes photographs of every finished meal, helpful tips and tricks on Masterbuilt smoker, making BBQ and SMOKING MEAT to make your job easier. Whether you are a beginner meat smoker or looking to go beyond the basics, the book gives you the tools and tips you need to start that perfectly smoked meat.