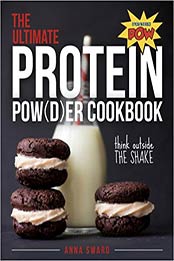 Title:The Ultimate Protein Powder Cookbook: Think Outside the Shake
Author:Anna Sward
Pages:288
Publisher (Publication Date):Countryman Press; 1st edition (May 26, 2014)
Language: English
ISBN-10, ISBN-13 or ASIN:1581572530
Download File Format:EPUB
More than 150 revolutionary recipes for protein powder pancakes, breads, cookies, pizza, and more — gluten-free, easy, and delicious!
Protein powder can help you lose weight, build muscle, have more energy, and perform your very best. And there are delicious ways to use protein that go beyond simply tossing a scoop of powder into your blender in the morning. Protein powders can also be used to make an infinite array of healthy and delicious foods that satisfy your tastebuds and your health and optimal fitness. They're easy to make, and portable, too. Anna Sward – author of the celebrated blog proteinpow.com – provides easy-to-follow recipes for protein bars, breads, quiches, pizza, muffins, pancakes, cookies, cakes, and more, all using the freshest and most nutritious of ingredients.
Sward will show you a revolutionary new way of eating. High-protein living, without gluten, sugar, empty calories, refined carbohydrates, unhealthy fats, and preservatives, will become a pleasure to be enjoyed. Yes, you can have your cake, and eat it, too!