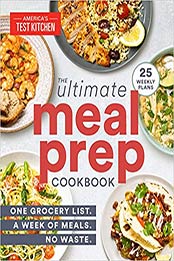 Title:The Ultimate Meal-Prep Cookbook: One Grocery List. A Week of Meals. No Waste.
Author:America's Test Kitchen
Pages:336
Publisher (Publication Date):America's Test Kitchen (March 2, 2021)
Language: English
ISBN-10, ISBN-13 or ASIN:1948703580
Download File Format:EPUB
Turn meal prep aspirations into dinnertime reality
1 short shopping list gets you 5 weeknight meals
Meal prep no longer means filling your freezer with boring casseroles, dipping into the same pot of beans every day for a week, or spending all day Sunday cooking. Instead, use these smart meal plans to customize fast, fresh dinners that fit your ever-changing schedule. We've done the work of building 25 weekly plans that minimize shopping and kitchen time and guide you through prep-ahead options, make-ahead options, and ingredient substitutions. So now you can reap the benefits to make your life easier, your grocery bill lower, and your dinners better.
With a grocery list of just 11 items and some on-hand pantry staples, you can enjoy a week of Crispy Chicken with Carrot, Orange, and Chickpea Salad; Meatballs and Lemon Orzo with Mint and Dill; Teriyaki Stir-Fried Beef with Green Beans; Herb-Poached Salmon with Cucumber-Dill Salad; and Sun-Dried Tomato and White Bean Soup with Parmesan Crisps.
A thorough introduction explains how to build a strong, diverse pantry (and make the most of it), how to store prepped ingredients to keep them fresh, how to store cooked food safely, the smartest ways to reheat food, essential meal-prep equipment, and more.