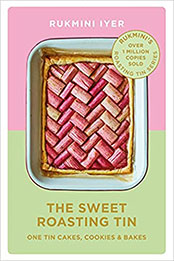 Title:The Sweet Roasting Tin: One Tin Cakes, Cookies & Bakes – quick and easy recipes
Author: Rukmini Iyer
Pages: 240
Publisher (Publication Date): September 2nd, 2021
Language: English
ISBN-10, ISBN-13 or ASIN: 1529110432
Download File Format:EPUB
**THE NEW BOOK IN THE MILLION-COPY SELLING ROASTING TIN SERIES**
Feeling inspired by Great British Bake Off? Ready to try your hand at easy and delicious one-tin bakes?
Rukmini Iyer has the answer with 75 new recipes in one sweet package.
The perfect Christmas gift for novice bakers and dessert aficionados alike.
From sticky date gingerbread and chocolate passionfruit brownies to chilli-spiked halloumi and courgette muffins and the ultimate bread and butter pudding, simply pop your ingredients in a tin and let the oven (or for minimum-effort bakes, the fridge!) do the work. Keeping with her ethos of 'minimum effort, maximum flavour', Rukmini Iyer's one-tin bakes are simple to prep, but still offer great-tasting results.
From easy bakes to showstopping sensations, this book is for anyone who wants to bake using everyday ingredients and store cupboard staples.
'Rukmini Iyer's one tin savoury makes were a revelation and she applies the same winning formula to sweet bakes, cakes and cookies… relish the results' Simple Things