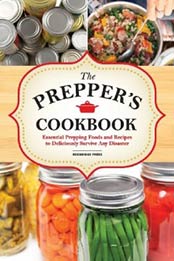 Title: The Preppers Cookbook: Essential Prepping Foods and Recipes to Deliciously Survive Any Disaster
Autor: Rockridge Press
Pages: 240
Publisher (Publication Date): Rockridge Press (June 26, 2013)
Language: English
ISBN-10: 162315197X
Download File Format: EPUB

Build an emergency food supply for your family with nutritious, low-cost recipes with the handy Preppers Cookbook.
Prepping your own food–choosing the right ingredients, in the right quantities, with the right methods–is the best way to ensure that you and your family will be ready for any disaster. This is the ultimate prepper's cookbook for preparing in a safe and smart way.
With the help of The Preppers Cookbook you'll be able to:
Get started with handy checklists and instructions to begin preparing immediately
Use The Preppers Cookbook to quickly learn and start using different food-preservation methods such as canning, pickling, and dehydrating
Choose from delicious recipes from the The Preppers Cookbook for every meal and situation, including breakfast, dessert, and snacks
Keep track of your calories, water supply, and macronutrients using proper guidelines
Easily organize your disaster response with helpful tips and suggestions from The Preppers Cookbook
Regardless of what reality TV would have you believe, most preppers are real-world people just like you, who simply want to be prepared to survive any emergency that may arise.
Advance preparation will be crucial to making it through a disaster, even if it's for only a few days. With dozens of useful recipes, and with tutorials on crucial topics such as alternate food sources, reliable cooking methods, and water purification, The Preppers Cookbook will help get your family prepared for any situation.