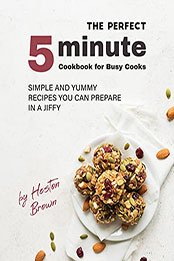 Title: The Perfect 5-Minute Cookbook for Busy Cooks: Simple and Yummy Recipes You Can Prepare in a Jiffy
Author: Heston Brown
Pages: 82
Publisher (Publication Date): August 11, 2021
Language: English
ISBN-10, ISBN-13 or ASIN: B09CG2515L
Download File Format:EPUB
Sometimes, instead of enjoying the process of creating something delicious, cooking can seem like a chore. There are likely days that you just want to whip something up that will not require you to stay in the kitchen for hours. If you are looking for a go-to breakfast for lazy mornings or a quick dinner to prepare after a busy day, you are in the right place. With the recipes that you will find in this book, you can prepare a meal fast.
Even though you can prepare these recipes in a very short time, it does not mean that taste is compromised. We guarantee that all of the recipes here are full of flavor that is perfect for breakfast, lunch, dinner, and even for snacking. Not only are these recipes quick to make, but also simple. You will not have a hard time finding the ingredients needed.
If you need a fast and easy recipe after a long and tiring day, you should try the recipes in store for you in this book.