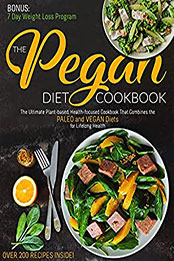 Title: The Pegan Diet Cookbook: The Ultimate Plant-based, Health-focused Cookbook That Combines the PALEO and VEGAN Diets for Lifelong Health (Over 200 recipes Inside!)
Author: Amy Denson
Pages: 223
Publisher (Publication Date): June 23, 2021
Language: English
ISBN-10, ISBN-13 or ASIN: B097WP3K66
Download File Format:EPUB
Does your current diet make you feel like you're struggling to stay afloat? Do you feel like switching it up for a healthier one… Or like getting guidance on one of the most popular diets of the moment?
You're at the right place! The "pegan" diet combines the paleo diet – which focuses on whole foods that could have been hunted or gathered, such as fruits, vegetables, meat and nuts – and the Vegan diet, in which you eat only plant-based foods.
Not only will this type of diet be good for your health, but you'll also contribute to the preservation of the environment!
You can trust us, the pegan diet is unique and has its own set of guidelines. In fact, it's less restrictive than either a paleo or vegan diet by itself!
Are you intrigued? In this book, we'll explain how to make delicious, mouthwatering recipes!
What can you expect?
200 delicious, easy-to-prepare recipes that you can enjoy for breakfast, lunch, or dinner. The idea behind the Pegan diet is to eliminate processed and industrial foods from one's life as well as sugars and starches in favor of plant foods, foods rich in proteins and healthy fats. In reality foods of animal origin are not completely excluded! In fact, in this book, among the 200 recipes you will also find foods of animal origin that come from organic and sustainable farms.
The recipes contained in the book are also very fast to prepare – most can be made in 30 minutes or even less!
You'll learn everything you need to know about the pegan diet, including how to combine paleo and vegan recipes to make sure you're getting all the nutrients you need and reaping the greatest benefits of the pegan diet.
The goal of the Pegan diet would be to take the strengths from Paleo and Vegan principles to create a new eating plan that is more moderate and healthier than both taken individually.
By following these recipes you will make sure to benefit your body and stay fit like never before!
What are you waiting for? Grab your copy today and start a healthier lifestyle in which you will be happier!