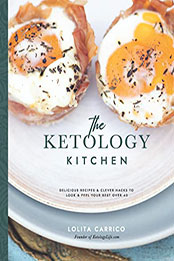 Title:The Ketology Kitchen: Lose Fat, Increase Energy and Feel Your Best Over 40
Author: Lolita Carrico
Pages: 300
Publisher (Publication Date):Ketology LLC; 2022nd edition (May 10, 2022)
Language: English
ISBN-10, ISBN-13 or ASIN: B0B147Y8PH
Download File Format:EPUB
Over 40 and struggling with fat loss, decreased energy and skin issues? Hormones can throw our bodies into a tailspin as we approach and enter our 40s and beyond. The buzz about the keto diet goes beyond fat loss. For women, it can make the difference to regulate hormones, blast fat and reverse signs of aging.The Ketology Kitchen is a 200+ page cookbook and guide to living a keto-based lifestyle optimized specifically to support the needs and hormonal changes of women over 40 years old. Ketology is focused on increased energy, fat loss from the stubborn areas where fat seems to gather as women enter peri-menopause and beyond, and the anti-aging benefits of the keto diet. The first in a series of essential keto cookbooks, The Ketology Kitchen breaks down how the keto diet works, why it's optimal for many women specifically, and includes grocery essentials, a sample 7-day meal plan and over 50 delicious and easy recipes from breakfast to dinner including snacks and desserts — and even cocktails! — to get started with a ketogenic lifestyle. Most importantly, this keto book isn't about obsessing over your carb intake and keeping track of every little thing you consume — it's about learning what your body intuitively needs and how to give it what it needs without sacrifice, with lots of flavor and joy.Recipes include:- Anti-Aging Elixir- Eggs in Prosciutto Baskets- Cinnamon Donuts- Teriyaki Chicken Wings- Creamy Tomato Soup with Low Carb Croutons- Miso Cod with Baby Bok Choy- Keto Manicotti- Thai Shrimp in Lettuce Cups- BlackBerry Margarita- and over 50 others! – Tips on constructing the perfect, filling and delicious keto salad- Nutrients found in keto-friendly foods that help reverse the signs of aging and give you more energy than ever beforeThe Ketology Kitchen includes tips on how to adapt recipes, hacks and strategies to enjoy life to the fullest while blasting fat and feeling and looking better than ever.