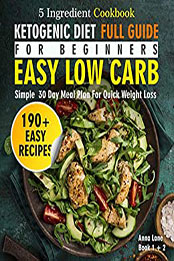 Title: The Ketogenic Diet Full Guide for Beginners: An Easy, Low Carb, 5-Ingredient Cookbook: A Simple 60-Day Meal Plan for Quick Weight Loss
Author: Anna Lane
Pages:432
Publisher (Publication Date): November 8, 2020
Language: English
ISBN-10, ISBN-13 or ASIN: B08N162D8Y
Download File Format:PDF
LOOK HERE: Lose Weight Without Going Beyond Your Budget Using this LIFE-CHANGING Keto Diet Guide, Complete with a Keto 30 Day Meal Plan!
Did you know that there are two types of keto diets? The first one is called the "clean keto diet", which requires you to completely avoid processed foods. Whereas the second one, the "dirty keto diet", entails practitioners to eat anything as long as it adheres to the right ratio of fat, protein, and carbs.
The problem here is that not all people know this. Therefore, it's easy for those who are on a tight budget to regard the keto diet as a non-sustainable weight loss method for them.
Luckily for you, the keto diet can most definitely be customized to accommodate your lifestyle and budgetary needs! Let me introduce you to "The Keto Diet" — an all-inclusive weight loss cookbook and guide to one of the best low carb diets around!
Over the course of this game-changing guide, you will:
Easily pick which type of keto diet works best for you, your lifestyle, and budget
Learn all the FOOLPROOF keto diet tips to maximize your weight loss success
Get a SUPER effective 30 day keto diet meal plan that complements your health goals
Prepare EASY, DELICIOUS, keto-friendly breakfast, lunch, dinner, dessert, and drink recipes
And so much more!
There is a reason why the keto diet is one of the most well-known low carb diet plans out there!
With the help of this book, you will learn how to make the keto diet work for you… instead of adjusting your life and needs to fit the diet!
With tons of delicious and easy 5 ingredient keto recipes, PLUS an awesome 30 day keto diet plan, you will be able to successfully achieve your weight loss and health goals – as well as maintain your momentum – without breaking a sweat!