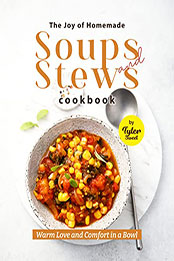 Title: The Joy of Homemade Soups and Stews Cookbook: Warm Love and Comfort in a Bowl
Author: Tyler Sweet
Pages: 76
Publisher (Publication Date): June 17, 2022
Language: English
ISBN-10, ISBN-13 or ASIN: B0B4G3FSPV
Download File Format:EPUB
Soups and stews don't just warm you on a chilly day like a snuggle. They are easy to prepare, provide you with lots of vegetables, and are a luxurious yet inexpensive treat. Add some fresh crusty bread, and you're all set.
Soup and stews freeze well, which means you will always have a few excellent meals handy. When making soups and stews, it's always wise to prepare more than you need. That way, you'll still have a delicious and nourishing meal ready, even if you are busy.
Rely on the recipes in the Joy of Homemade Soups and Stews Cookbook to boost your immune system and put a spring in your step. More soups mean fewer colds and flu. That's because soups and stew are laden with disease-fighting ingredients such as garlic, onions, and vegetables – all swimming in a tasty broth.