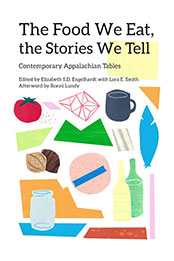 Title: The Food We Eat, the Stories We Tell: Contemporary Appalachian Tables (New Approaches to Appalachian Studies)
Author: Elizabeth S. D. Engelhardt
Pages: 218
Publisher (Publication Date): Ohio University Press (November 5, 2019)
Language: English
ISBN-10, ISBN-13 or ASIN: 0821423924
Download File Format:EPUB
Blue Ridge tacos, kimchi with soup beans and cornbread, family stories hiding in cookbook marginalia, African American mountain gardens—this wide-ranging anthology considers all these and more. Diverse contributors show us that contemporary Appalachian tables and the stories they hold offer new ways into understanding past, present, and future American food practices. The poets, scholars, fiction writers, journalists, and food professionals in these pages show us that what we eat gives a beautifully full picture of Appalachia, where it's been, and where it's going.
Contributors: Courtney Balestier, Jessie Blackburn, Karida L. Brown, Danille Elise Christensen, Annette Saunooke Clapsaddle, Michael Croley, Elizabeth S. D. Engelhardt, Robert Gipe, Suronda Gonzalez, Emily Hilliard, Rebecca Gayle Howell, Abigail Huggins, Erica Abrams Locklear, Ronni Lundy, George Ella Lyon, Jeff Mann, Daniel S. Margolies, William Schumann, Lora E. Smith, Emily Wallace, Crystal Wilkinson