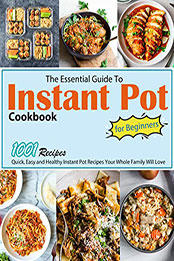 Title:The Essential Guide To Instant Pot Cookbook for Beginners: Quick, Easy and Healthy 1001 Instant Pot Recipes Your Whole Family Will Love
Author: ALICIA LARSON
Pages:
Publisher (Publication Date):April 24, 2022
Language: English
ISBN-10, ISBN-13 or ASIN: B09YT6SC4S
Download File Format:EPUB
Instant Pot – It's not just a supercharged pressure cooker – it's a way of life. Do you want to make great recipes for yourself and family using the Instant Pot? Did you get an Instant Pot as a present? Or do you already have one in the kitchen, but have no idea what to cook? You've found the ultimate list of the Best Instant Pot Recipes! These quick and simple recipes will get dinner on the table in no time. There are tons of recipes that are easy to make in your Instant Pot. Here you will find pressure cooker recipes for everything from Moroccan meatballs to lasagna soup. These recipes are perfect for on-the-go families who love healthy and delicious food, but may not always have time to spend hours cooking. This Instant Pot cookbook will show you how to make the most of your perfect pot. With these easy and healthy recipes, you can surprise your family, friends and your loved one. So, now you have your kitchen bible with 1001 recipes that would help to cook your favorite meals. Use this Instant Pot cookbook to make EVERY meal, ANY day of the week, with: 1001 delicious recipes like Italian shredded chicken and orange chicken, red wine beef stew, mango mashed potatoes, yummy banana bread and etc Easy options for breakfasts, lunches, snacks, side dish and dessert recipes Healthy dinner recipes, which you can use after busy working days and your family would enjoy it. This book will teach you how to create a variety of healthy, easy-to-make, delicious recipes in the easiest way possible. Making great cooking choices has never been easier!