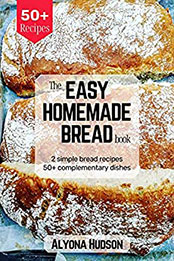 Title:The Easy Homemade Bread Cookbook: 2 Simple Bread Recipes and 50+ Complementary Dishes (Homemade Bread Recipe Book)
Author: Alyona Hudson
Pages: 222
Publisher (Publication Date):June 21, 2021
Language: English
ISBN-10, ISBN-13 or ASIN: B097Q9KM91
Download File Format:EPUB
To everyone looking for easy-to-bake bread recipes—welcome! You are in the right place.
I have two fantastic easy bread-baking recipes in this homemade bread recipe book, as well as 50 fabulous dishes that'll complement your newly found bread-baking skills! I hope you enjoy cooking with me. Cheers!
Contents
Introduction
Before we start: top 10 tips for easy at-home bread making
BREAD RECIPE #1
BREAD RECIPE #2
Breakfast
Grilled omelette breakfast sandwich with spinach and garlic
Sunnyside up eggs on toast with a marinated tomato and basil salad
Egg feast with homemade toast + White wine, peach & pear sangria
Ham and scrambled egg with toasted bread
Vanilla bean French toast stuffed with berries
Heirloom tomato mix and fried eggs with roasted garlic toast
Pan-fried Sardines and Egg Breakfast Toast
24 hour salted (cured) salmon sandwich with cream cheese
Veg and berry salad with toast and perfect sunny side up eggs
Sandwiches, Burgers, Pizzas and Stuffed Bread
Pressed sandwich
Mozzarella stuffed bread + Sage-infused Bloody Mary recipe
Pan-fried open sandwich with mackerel, thyme, and honey mustard sauce
Pan-fried chicken open sandwich and horseradish sauce with a diced cucumber vinegar salad on a side
Green Veg and herb pizza
Summer sauce pizza with veg
Marinated sweet turkey wings sandwich with zucchini and dried onion and white garlic sauce
Pulled pork sandwich with coleslaw
Mushroom burger
Chicken cilantro and marinated onion burger
Turkish minced meat "pizza" + Mint white wine
A mix of salted salmon brunch sandwiches + Rosé, grapefruit and tonic
Fried sardines in tomato toast on fried garlic bread
Salads and spreads
Radish egg salad with fried bread
Smoked Mackerel Spread with Cream Cheese on Toast
Tuna and capers on toast
Marinated cilantro roasted peppers on fried bread + Rosé wine, Blood orange and Rose Water
Chicken liver butter pistachio or berry jelly pate spread
Grilled veg salad with garlic fried bread
Heirloom tomato spring onion and young garlic salad with aromatic oil
Heirloom summer tomato oregano and thyme creamy feta salad with cubed bread
Liza's salsa-like salad
Soups and Stews
Zucchini stew with fried bread
Pork and cabbage stew with smoked paprika buns
Zucchini and carrot puree soup with sour cream and toast
Tikka Masala inspired carrot and corn soup with croutons
Broccoli and cauliflower soup with sesame seed breadsticks
Coconut cream, saffron veg and wood ear mushroom curry with garlic buns
Spring veg stew with fresh garlic bread
Coconut milk and veg stew with duck breast and bread
Sharing Plates
Freshly baked bread with roasted garlic butter
Balsamic marinated tomatoes on fried bread
Garlic Buns
Creamed white muscles and freshly fried onion buns for dipping
Yellow cherry plum jam and cheese with freshly baked dried fruit and nut bread
Lavender Syrup boiled pares with creamy blue cheese on poppy seed bread + Lavender simple syrup
Eggplant trio with garlic buns + Bitter lemon Schweppes Prosecco cocktail
Marinated hot feta on toast
Baked Eggplant with tomato sauce and cheese
Baked mushrooms with herb-fried breadsticks
Cheese plates with fresh bread