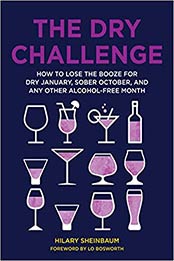 Title: The Dry Challenge: How to Lose the Booze for Dry January, Sober October, and Any Other Alcohol-Free Month
Author: Hilary Sheinbaum
Pages: 224
Publisher (Publication Date): Harper Design (December 29, 2020)
Language: English
ISBN-10: 0062937707
Download File Format:EPUB
Trend journalist, on-air host, and lifestyle expert Hilary Sheinbaum explores the incredible life-changing benefits of abstaining from alcohol for one month and provides a comprehensive guide to help you tackle Dry January, Sober October, and other booze-free challenges.
For many people, the holidays bring too much fun, too much food, and too much booze. January can be the perfect time to embrace the new you—and it all starts with taking a break from the bottle . . . but this challenge isn't limited to the month of January.
The Dry Challenge is ideal for anyone who wants to complete a dry month challenge, giving up all forms of alcohol—wine, beer, spirits and cocktails, including no shots, no low ABV cocktails, and absolutely no champagne toasts—for thirty-one days.
Whether you're thinking of participating in Dry January, Sober October, or want to choose a time of your own, this book walks you step-by-step through one drink-free month, from making a plan to sharing the news with friends and family (and what to do when someone tries to sabotage it) to getting back on track if you slip up and have a drink (or two).
Hilary Sheinbaum covers essential topics and provides informative tips such as:
"What You'll Gain When You Lose the Booze" + other positive side effects—money and time saved, and a deep dive into the health benefits of living a month without booze.
"Sober Month Support Squad"—how to enlist friends for support and combat social pressures from our current drinking culture.
Fun non-boozy activities everyone can participate in, dating (without drinks), "zero-proof" drink recipes, how to throw a nonalcoholic shindig, and the new sober nightlife trend.
With interactive activities from prompts to checklists to recipes, The Dry Challenge is the ultimate guide to stay booze free for one month. Cheers to a whole new you!