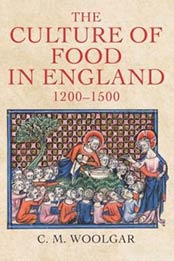 Title: The Culture of Food in England, 1200-1500
Autor: C. M. Woolgar
Pages:
Publisher (Publication Date): Yale University Press (April 26, 2016)
Language: English
ISBN-10:9780300181
Download File Format: PDF

In this revelatory work of social history, C. M. Woolgar shows that food in late-medieval England was far more complex, varied, and more culturally significant than we imagine today. Drawing on a vast range of sources, he charts how emerging technologies as well as an influx of new flavors and trends from abroad had an impact on eating habits across the social spectrum. From the pauper's bowl to elite tables, from early fad diets to the perceived moral superiority of certain foods, and from regional folk remedies to luxuries such as lampreys, Woolgar illuminates desire, necessity, daily rituals, and pleasure across four centuries.