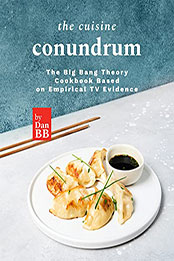 Title: The Cuisine Conundrum: The Big Bang Theory Cookbook Based on Empirical TV Evidence
Author: Dan BB
Pages: 69
Publisher (Publication Date): August 9, 2021
Language: English
ISBN-10, ISBN-13 or ASIN:B09CBR42WQ
Download File Format:EPUB
For more than a decade, The Big Bang Theory has kept many of us entertained with its big-word jokes and heartwarming scenes. This is a cookbook for those who have been missing Sheldon's quirks and Howard's bizarre antics. As Sheldon, Leonard, Howard, Raj, and Penny spend countless evenings talking about Star Wars and physics. The one constant has always been the sumptuous foods accompanying them.
From Leonard's Lactose-Free Cheese Quesadilla to Penny's French Toast, you can now relive some of the greatest moments with this group of scientists… and Penny.
This cookbook contains other exciting recipes like:
The Cheesecake Factory Birthday Slice
Raj's No-Meat Meat Lover Pizza
Sheldon's Favorite Bacon Cheeseburger
Pizza from Franconi's
Loaded Chips for Junk Food Wednesday
You will find 30 recipes that will let you experience Pasadena, California, through the eyes of Sheldon and his friends. From the cozy living rooms at Apartments 4A and 4B to The Cheesecake Factory, Penny worked.