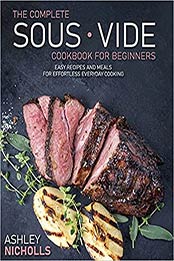 Title:The Complete Sous Vide CookBook For Beginners: Easy Recipes And Meals For Effortless Everyday Cooking
Author:Ashley Nicholls
Pages:185
Publisher (Publication Date): Independently published (April 16, 2021)
Language: English
ISBN-10, ISBN-13 or ASIN:9798739339133
Download File Format:EPUB
Do You Look For A Nice Way To Impress Special Friends And Guests Whom Will Come For Dinner? Would You Like To Maintain The Nutritional Properties Of All Of Your Dishes?
Each of us has dinner guests, and this happens much more often than people can imagine.
Is normal that we want to look good at these events, for our homes' style, for decorations on the table, and especially for the quality of the dishes that will prepare.
Indeed, all this needs an expensive grocery, and the food that we prepare needs also our complete attention, all our time in front of the stove because we cannot allow to waste it with cooking mistakes.
We are there, between pots and pans, trying to maintain the control of temperatures and we hope to not spoil neither the food nor the evening.