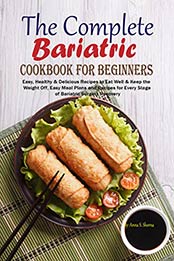 Title: The Complete Bariatric Cookbook for Beginners: Easy, Healthy & Delicious Recipes to Eat Well & Keep the Weight Off, Easy Meal Plans and Recipes for Every Stage of Bariatric Surgery Recovery
Author: Anna S. Shorna
Pages: 93
Publisher (Publication Date): October 9, 2020
Language: English
ASIN: B08L1CPSQX
Download File Format:EPUB
The Complete Bariatric Cookbook for Beginners
75 Easy, Healthy & Delicious Recipes to Eat Well & Keep the Weight Off, Easy Meal Plans and Recipes for Every Stage of Bariatric Surgery Recovery (Bariatric Cookbook)
What does a gastric sleeve do?
A gastric sleeve acts by removing a substantial part of your stomach permanently. As your stomach 's capacity is drastically diminished, it can only hold a small portion of food. After eating far less food, you would feel full and be less hungry between meals.
With the gastric sleeve, how much weight will I lose?
Usually, up to 70% of the excess weight loss is expected to be lost. From the baseline starting point, the sleeve gastrectomy usually results in 25 to 35 percent body weight loss or 50 to 70 percent excess weight loss. The difference between your target weight and your present weight is your excess body weight.
A new diet that is healthy
Gastric bypass surgery decreases your stomach 's size and improves the way food reaches your bowels. It 's critical to get adequate nourishment after surgery while keeping your goals for weight loss on track. You may be advised by a doctor:
Slowly eat and drink: To stop dumping syndrome, take at least 30 minutes to eat your meal.
Keep your meals small: Eat a few small meals per day. You will start with six small meals a day, then move to four meals, and finally, three meals a day when you adopt a daily diet. Around half a cup to 1 cup of food should be included in each meal.
Drink water between meals: You'll need to drink at least 8 cups of fluids a day to prevent dehydration. But consuming too much liquid can leave you feeling overly full at or during mealtime and keep you from eating enough nutrient-rich food.
Chew food thoroughly: The new opening that leads into your small intestine from your stomach is very narrow and can be blocked by larger food bits. Blockages prevent your stomach from leaving food and can cause vomiting, nausea, and abdominal pain. Until swallowing, take small bites of food and chew them to a purified consistency.
Focus on high protein foods: Before eating other foods in your meal, eat these foods.
Avoid high in fat foods and sugar: these foods move rapidly and induce dumping syndrome through your digestive system.