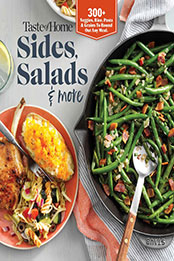 Title: Taste of Home Sides, Salads & More: 345 side dishes, pasta salads, leafy greens, breads & other enticing ideas that round out meals
Author:Taste of Home
Pages: 320
Publisher (Publication Date): Trusted Media Brands (July 12, 2022)
Language: English
ISBN-10, ISBN-13 or ASIN:1621457869
Download File Format:EPUB
Whether you're looking to round out a monthly meal plan or just need the perfect additions to a celebratory buffet, the answers are always at your fingertips with Taste of Home's latest kitchen helper, Sides, Salads & More!
From backyard barbecues and potluck picnics to weeknight dinners and holiday lineups, making memorable menus has never been easier. Take a look inside for veggie, pasta, salad, bean and grain dishes that have family and friends asking for more. You'll even find a section of breads, biscuits and rolls in addition to a chapter on no-fuss breakfast sides that are sure to make your brunches shine. Best of all, three icons make it a snap to locate healthier dishes, recipes that simmer in a slow cooker and those that come together in a hurry. With this spectacular collection, you'll never worry about what to serve on the side again!
CHAPTERS
All-Time Classic Side Dishes
5-Star Veggie Add-Ons
Breakfast & Brunch Sides
Leafy Greens, Crispy Slaws & Crunchy Bites
Pasta & Noodles
Potatoes & Sweet Potatoes
Favorite Root Vegetables
Rice & Grains
Beans, Lentils & Legumes
Fruits & Berries
Breads, Biscuits & More
Bring-a-Dish Potluck Greats
RECIPES
Caesar Salad
Air-Fryer French Fries
Baked Ratatouille
Slow-Cooker Calico Beans
Creamy Pumpkin Tortellini
Swiss Angel Hair & Asparagus
Twice-Bake Cheddar Potato Casserole
Sage Turkey Sausage Patties
Orange-Glazed Bacon
Stuffed Hash Browns
Nectarine Fruit Salad with Lime Spice Dressing
Dutch Oven Bread
Sour Cream & Cheddar Biscuits
Tortilla Dressing
Texas Pecan Rice
Creamy Pasta with Bacon
Asian Quinoa
Tangy Cilantro-Lime Confetti Salad
Apple Maple Pecan Salad
Acorn Squash Slices
Rosemary Root Vegetables
Summertime Tomato Salad