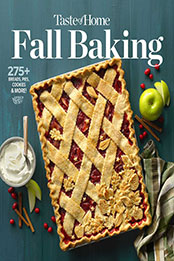 Title: Taste of Home Fall Baking: 275+ Breads, Pies, Cookies & More
Author: Taste of Home
Pages: 320
Publisher (Publication Date): Trusted Media Brands (September 13, 2022)
Language: English
ISBN-10, ISBN-13 or ASIN: 1621458288
Download File Format:EPUB
Savor all of your fall favorites with autumn's best baked goods in this collection of more than 275+ mouthwatering recipes.
Inside you'll find more than 275+ impressive cakes, snackable cookies, holiday pies, impressive tarts and all the buttery breads you adore most. You'll also rely on dozens of how-to photos and step-by-step instructions as well as baking hints and tips from our Test Kitchen pros. Additional QR codes link you to handy how-to videos and collections of free recipes. A special Bonus Chapter offers savory potpies, bubbling casseroles and other oven-fresh entrees sure to warm the chilliest fall evening. Autumn is the perfect time of year to bake up a sensational new favorite. Let this keepsake cookbook show you how.
CHAPTERS
Favorite Fall Ingredients
All-Time Fall Favorites
Classic Yeast Breads
Quick Breads
Cookies, Brownies & Bars
Pies & Tarts
Cakes & Cupcakes
Pastries & Bakeshop Sweets
Autumn's Best Desserts
Bonus: Pot Pies & Other Cozy Dinners
Index by Flavor/Ingredient
Index by Recipe Title
RECIPES
Apple Brandy Pecan Cake
Apple Cider Cinnamon Rolls
Nantucket Cranberry Tart
Chocolate Chip Pumpkin Bread
Wholesome Wheat Bread
Rosemary Walnut Bread
Maple Chai Pumpkin Muffins
Dumpling Pull-Apart Bread
Best-Ever Breadsticks
Cheese & Garlic Biscuits
Sweet Potato Dutch Baby with Praline Syrup
Almond Chocolate Biscotti
Apple Butter Pumpkin Pie
Brie & Caramelized Onion Flatbread
Date-Walnut Pinwheels
Frosted Maple Cookies
Rustic Nut Bars
Honey Pecan Cheesecake
Ginger Pumpkin Cheesecake
Toffee-Pear Crisp Bread Pudding
Mile-High Chicken Potpie
Beef & Blue Cheese Tart
Buffalo Chicken Crescent Rolls
Turkey Lattice Pie
Beef Stew Skillet Pie