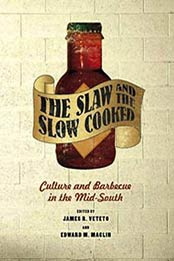 The Slaw and the Slow Cooked: Culture and Barbecue in the Mid-South by James R. Veteto
Print Length: 232 Pages
Publisher: Vanderbilt University Press
Publication Date: January 30, 2012
Language: English
ISBN-10: 0826518028, 082651801X
ISBN-13: 978-0826518026, 978-0826518019
File Format: PDF
Texas has its barbecue tradition, and a library of books to go with it. Same with the Carolinas. The mid-South, however, is a region with as many opinions as styles of cooking. In The Slaw and the Slow Cooked, editors James Veteto and Edward Maclin seek to right a wrong–namely, a deeper understanding of the larger experience of barbecue in this legendary American culinary territory.
In developing the book, Veteto and Maclin cast a wide net for divergent approaches. Food writer John Edge introduces us to Jones Bar-B-Q Diner in Marianna, Arkansas, a possibly century-old restaurant serving top-notch pork and simultaneously challenging race and class boundaries. Kristen Bradley-Shurtz explores the 150-plus-year tradition of the St. Patrick's Irish Picnic in McEwen, Tennessee. And no barbecue book would be complete without an insider's story, provided here by Jonathan Deutsch's "embedded" reporting inside a competitive barbecue team. Veteto and Maclin conclude with a glimpse into the future of barbecue culture: online, in the smoker, and fresh from the farm.
The Slaw and the Slow Cooked stands as a challenge to barbecue aficionados and a statement on the Mid-South's important place at the table. Intended for food lovers, anthropologists, and sociologists alike, The Slaw and the Slow Cooked demonstrates barbecue's status as a common language of the South.