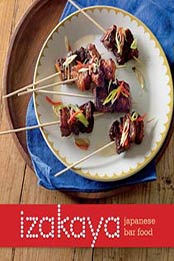 Title: Izakaya (Cookery)
Autor: Hardie Grant Books
Print Length: 176 pages
Publisher (Publication Date): Hardie Grant Grp; 01 edition (August 1, 2011)
Language: English
ASIN: B005GL767S
ISBN-10: 174270042X
ISBN-13: 978-1742700427
File Format: EPUB
Izakaya introduces you to the world of Japanese bar food, with 75 delicious and authentic recipes. There are small bites, such as Lotus Chips and Japanese Pickles, salads like Green Beans with Black Sesame Dressing, along with a range of tempting skewers such as Nori-wrapped Scallops and Pork with Umeboshi. Bigger dishes include Okonomiyaki (Japanese pancake), Pork Gyoza (dumplings) and Steamed Fish with Miso and Mirin, while sweets might be Sesame Mousse with Red Bean or Green Tea Candied Chestnuts. Some of the recipes feature Japanese ingredients that might already be in your cupboard – soy sauce, miso paste and soba noodles – while others use ingredients that may be less familiar – ponzu sauce, ichimi spice mix and shiso leaves. With stunning photography and recipes that are authentic yet not overly complicated, Izakaya is the perfect book for anyone who wants to make beautiful, simple Japanese bar food at home.