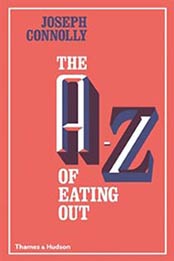 Title: The A-Z of Eating Out
Autor: Joseph Connolly
Print Length: 256 pages
Publisher (Publication Date): Thames and Hudson Ltd (February 10, 2014)
Language: English
ASIN: B00I0Y8N7K
ISBN-10: 0500517363,
ISBN-13: 978-0500517369,
File Format: EPUB
A light-hearted, humorous guide to all aspects of eating out, offering a wealth of guidelines, suggestions, top tips, cautions and insider knowledge to help the gourmet (and everyone else) get the most out of their dining experience. With 146 A-Z entries the book is a shrewd and in-depth exploration of every facet of eating out – some more familiar than others. Entries include: Wine lists, Complaining, Going Dutch, Queuing, Star chefs, Tipping and many more. Joseph Connolly is the bestselling author of twelve novels and twelve works of non-fiction. He writes the weekly restaurant review for the 'Hampstead & Highgate Express'.