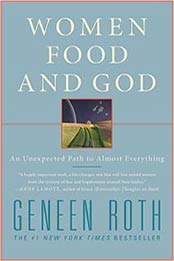 Title: Women Food and God: An Unexpected Path to Almost Everything
Autor: Geneen Roth
Print Length: 96 pages
Publisher (Publication Date): Simon & Schuster UK (September 29, 2011)
Language: English
ASIN: B007CXOE78
ISBN-10: 1416543074
ISBN-13: 978-1416543077
File Format: EPUB
Millions of us are locked into an unwinnable weight game, as our self-worth is shredded with every diet failure. Combine the utter inefficacy of dieting with the lack of spiritual nourishment and we have generations of mad, ravenous self-loathing women. So says Geneen Roth, in her life-changing new book, Women, Food and God. Since her 1991 bestseller, When Food Is Love, was published, Roth has taken the sum total of her experience and combined it with spirituality and psychology to explain women's true hunger. Roth's approach to eating is that it is the same as any addiction – an activity to avoid feeling emotions. From the first page, readers will be struck by the author's intelligence, humour and sensitivity, as she traces the path of overeating from its subtle beginnings through to its logical end. Whether the drug is booze or brownies, the problem is the same: opting out of life. She powerfully urges readers to pay attention to what they truly need – which cannot be found in a supermarket. She provides seven basic guidelines for eating (the most important is to never diet) and shares reassuring, practical advice that has helped thousands of women who have attended her highly successful seminars. Truly a thinking woman's guide to eating – and an anti-diet book – women everywhere will find insights and revelations on every page.
Review

"Geneen Roth has written an extraordinary book – at once beautiful, moving, funny and searing. Most important, she gives us a practical way to use our bodies – along with some of the most difficult parts of our emotional lives – as gracious and transformative portals to our soul." –Rick Foster, co-author of Happiness & Wealth and How We Choose to Be Happy"Women Food and God is daring, dazzling, funny, comforting, wise and profoundly spiritual. It maps the journey from the darkness of obsession to the pure sense of being in prose so insightful and astonishing it left me breathless. Geneen Roth is an international treasure, and her new book is a gift to us all." — Gay Hendricks, Ph.D. author of Five Wishes and Conscious Loving"Geneen Roth does it again! Women Food and God is absolutely mesmerizing. And loaded with insights which can change your life." –Chistiane Northrup, MD, ob/gyn physician and author of Women's Bodies, Women's Wisdom and The Wisdom of Menopause"This is a hugely important work, a life-changer, one that will free untold women from the tyranny of fear and hopelessness around their bodied. Beautifully written, a joy to read, rich in both revelation and great humor." –Anne Lamott, author of Grace (Eventually): Thoughts on Faith

About the Author

Geneen Roth is the author of ten books, including the New York Times bestsellers When Food Is Love, Lost and Found, and Women Food and God, as well as The Craggy Hole in My Heart and the Cat Who Fixed It. She has been teaching groundbreaking workshops and retreats for over thirty years and has appeared on numerous national shows, including The Oprah Winfrey Show, 20/20, the Today show, Good Morning America, and The View. She lives in California with exaltations of hummingbirds, her husband, and Izzy the fabulous, eating-disordered dog. For more information about her work, please visit GeneenRoth.com.

See all Editorial Reviews
Comments:
If you are ready to give up the never ending battle with food and emotional eating, this is so worthwhile.