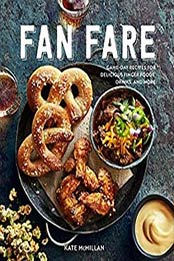 Title: Fan Fare: Game Day Recipes for Delicious Finger Foods, Drinks & More
Autor: Kate McMillan
Print Length: 104 pages
Publisher (Publication Date): Weldon Owen (August 29, 2017)
Language: English
ASIN: B077ZNZCVW
ISBN-10: 1681882566,
ISBN-13: 978-1681882567,
File Format: EPUB, PDF
Whether or not the game is any good doesn't matter as long as you have great eats: eating well during the game is nearly as important as the game itself. Packed with classic game day fare, from munchies and small bites to classic tailgating stand-bys and stadium standards, this book is your complete guide to game-day-grub.
From simple dips to a variety of wings, fully-loaded nachos and Texas chili to meaty sliders and cheesy quesadillas, this book is packed with exactly what everyone wants to eat in front of the tv or at the game. The 60 recipes offer lots of easy variations on favorite game day classics and are accompanied by helpful tips for serving and making things ahead.
Selection of recipes:
• Snacks and Dips: Guacamole and Salsa, Cheesy Fundido Dip, Hot Artichoke-Parmesan Dip, Sweet & Spicy Bacon Popcorn, Beer Nuts, Potato Chips, Onion Strings, Sweet Potato Fries and Garlic-Parmesan Fries
• Small Bites: Jalapeno Poppers, Bacon-Wrapped Shrimp, Meatballs with Romesco Sauce, Fried Calamari, Sausage-Stuffed Mushrooms, Deep Dish Mini Pizzas, Soft Pretzels, Ahi Tuna Wontons, and Classic Deviled Eggs
• Small Plates: Ham and Cheese Stromboli, Tandoori Chicken Kebabs, Spicy Buffalo Wings, BBQ Baby Back Ribs, Pulled Pork Sliders, Hanger Steak Sliders, Buffalo Burger Sllders, Texas Chili, Taco Salad, Cheesy Pull-Apart Bread, Chicken and Artichoke Pizza, Sausage and Onion Flatbread, Sloppy Joes, Loaded Nachos, and a variety of Quesadillas, Twice-Baked Potato Skins, and Panini.
• Pitcher Drinks: Margaritas, Mojitos, Bloody Marys, Ramos Fizz, Beer Cocktails, and Greyhounds.