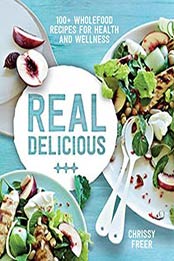 Title: Real Delicious: 100+ wholefood recipes for health and wellness
Autor: Chrissy Freer
Print Length: 224 pages
Publisher (Publication Date): Murdoch Books (February 1, 2016)
Language: English
ASIN: B016VIUKTK
ISBN-10: 1743365977
ISBN-13: 978-1743365977
File Format: EPUB
Whatever happened to eating real food? In a world of fasts and fads, whirlwind diets and mealtime anxiety, isn't it time we took back the joy of eating real, whole food and enjoyed the good health, energy and glowing vitality that can go with that? We only need to look at the increasing incidence of diabetes, food intolerances, allergies and digestive irritations and disorders to see that whatever it is we're doing to our food, it's not agreeing with us.
In Real Delicious, Chrissy Freer will show you how quick, easy, satisfying and invigorating it is to cook and eat real food. These are simply delicious recipes to share with family and friends for your whole life.
Eat real, eat well and love it!