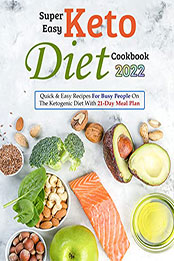 Title: Super Easy Keto Diet Cookbook 2022: Quick & Easy Recipes For Busy People On The Ketogenic Diet With 21-Day Meal Plan
Author: PAMELA OPHARROW
Pages:
Publisher (Publication Date): April 28, 2022
Language: English
ISBN-10, ISBN-13 or ASIN: B09Z6VNKKJ
Download File Format:EPUB
Do you want the healthy lifestyle you have always dreamt of?
Do you want to go keto, but don't know where to start?
In this cookbook you will learn:
My personal journey and struggles with diets.
What is the ketogenic diet – what foods you can and can't eat.
What are the main benefits and how you can maximise them
Tips and ticks how to make living on the keto easier.
21-day meal plan to make the start of your journey easier.
75 healthy, quick and easy to make recipes
All of these recipes are made with common ingredients that deliver great flavor and stunning aromas. They are approved by my husband and my guests who often come over for dinner. They are designed to guide you every step of the way in order to prepare the best keto foods ever.