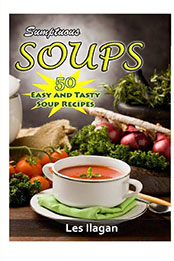 Title: Sumptuous Soups: 50 Easy and Tasty Soup Recipes
Author: Les Ilagan
Pages:134
Publisher (Publication Date): CreateSpace Independent Publishing Platform; 1st edition (August 3, 2015)
Language: English
ISBN-10, ISBN-13 or ASIN: 1515347168
Download File Format:EPUB
This cookbook covers delightful soup recipes from simple to a more complex. The writer Les Ilagan have added traditional soups from different cuisines to let you travel the world with its various flavors using ingredients that are readily available even at your local grocery store. They are budget-friendly too, which allows you to enjoy these soup recipes by incorporating them into your everyday meals. Grab a copy today and start enjoying your very own homemade sumptuous soup! Featured Recipes – Fresh Gazpacho Soup, Easy Vietnamese Pho Soup, Russian-Style Borscht Soup, Tofu Miso and Spinach Soup with Chives, Spicy Soba Noodles and Beef Soup, Beef Goulash Soup, Cream of Pumpkin and Sweet Potato Soup with Chives, Caramelized Onion Soup, Beetroot and Carrot Soup with Sour Cream, Cheesy Fennel Soup with Croutons, Curried Chicken and Potato Chowder with Herbs, Hot and Sour Fish Soup, Zucchini and Tomato Soup with Basil, Cream of Mushroom Soup with Fresh Coriander, Crab Corn and Potato Soup, Beef and Vegetable Soup with Chives, Cream of Carrot and Turmeric Soup with Coriander, and Cream of Asparagus Soup with Yogurt.