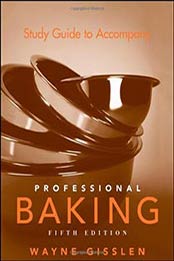 Study Guide to Accompany Professional Baking by Wayne Gisslen
Print Length: 220 Pages
Publisher: Wiley
Publication Date: March 3, 2008
Language: English
ISBN-10: 0471783501
ISBN-13: 978-0471783503
File Format: PDF
This manual is a companion to the fifth edition of Professional Baking. Its purpose is to help you study and review the material in the text. Learning to bake and to prepare pastries and desserts is to a great extent a practical, hands-on endeavor. Much of your training involves learning manual skills by practicing them under the guidance of an instructor or supervisor, and then improving those skills by repeated practice.