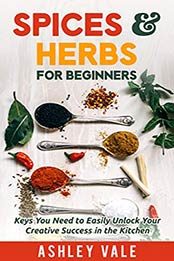 Title: Spices & Herbs for Beginners: Keys You Need to Easily Unlock Your Creative Success in the Kitchen (Spice & Herb series Book 1)
Author: Ashley Vale
Pages: 53
Publisher (Publication Date): April 22, 2020
Language: English
ASIN: B087JWP9LH
Download File Format:EPUB
Cooking Up Delicious Food is Easier Than You Think
Most of us are familiar with a few spices and herbs but have never taken the time to learn their full potential. As a result, we lose countless opportunities to turn an ordinary dish into an unforgettable one. With so many spices and herbs available to us, why not take advantage of what they have to offer? Just a little understanding of these amazing natural ingredients will go a long way. And, you don't even have to completely change what you love to cook.
I can think of a first-hand example. I love baked or roasted sweet potatoes, even with very little added since they pack so much flavor naturally. I tried a simple roasted sweet potato recipe that included some garlic, crushed red pepper, and thyme, and was blown away by the results. The sweet and spicy combination along with the amazing flavor of thyme (a new spice to me back then) was incredible. It was so easy to create, and it completely transformed an already delicious side dish. It also led me to other recipes where thyme was a star ingredient, because I was so impressed with the flavor it delivered. Using knowledge gained from this book, you'll discover how to add layers and depths of flavor to the foods you already love to eat, just like the example I gave. The result doesn't have to be completely new to be different and better.
Beyond that, understanding more about spices and herbs will spark some curiosity to try something you haven't tried before. Most of us have some international cuisine favorites and assume we could not come close to the taste we get from our go-to authentic restaurants. Often, the secret lies in that game changing spice or herb we never took time to purchase and experiment with.
You really can become a more skilled, knowledgeable, and successful home cook with a multi-cuisine repertoire.This book will help you unlock this untapped potential.
Here's a Taste of What You'll Learn…
Detailed descriptions of over 50 key spices and herbs and international cuisines linked to each one
How to cook with spices and herbs
Spices and herbs that complement various vegetables and meats
How to create a great marinade
How to substitute for spices and herbs you do not have
Popular international spice blend recipes
And more!
Download today and taste the results tomorrow.I really believe you will find this book valuable and a great reference for years to come.