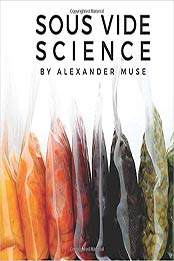 Title: Sous Vide Science
Autor: Alexander Muse
Pages: 84
Publisher (Publication Date): Independently published (September 30, 2019)
Language: English
ISBN-10: 1694349942
Download File Format: EPUB
Sous Vide Science is a down and dirty guide to sous vide cooking. This guide fully explains the sous vide method. Includes temperature and time charts for beef, poultry, fish, and vegetables. Beautiful color photos. This guide contains my favorite recipes that have been carefully tested and developed to turn out amazing using the sous vide method.
Recipes Include:
Sous Vide Berkshire Pork Tenderloin
Sous Vide Chicken Fried Lobster Tails
Sous Vide Duck Breast
Sous Vide Fish (Salmon, Halibut, Sea Bass)
Sous Vide Lamb Chops
Sous Vide Quail Steaks Tamales
Sous Vide Cocktails
Sous Vide Berry Infused Vodka Cocktail
Sous Vide Infused Orange Creamsicle
Sous Vide BBQ Baby Back Ribs
Sous Vide Berkshire Pork Chops
Sous Vide Brisket
Sous Vide Chicken Breast
Sous Vide Chicken Cordon Bleu
Sous Vide Lobster Tail
Sous Vide Pork Tenderloin
Sous Vide Spiced Fig Old Fashioned Cocktail
Sous Vide Soft Poached Egg
Sous Vide Chicken/Turkey Thighs/Legs
Sous Vide Hard Boiled Egg
Sous Vide Veggies (Asparagus, Artichokes, Carrots, Corn, Potatoes)
…and many more!