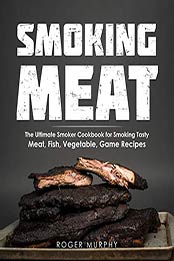 Title: Smoking Meat: The Ultimate Smoker Cookbook for Smoking Tasty Meat, Fish, Vegetable, Game Recipes
Author: Roger Murphy
Pages:168
Publisher (Publication Date): November 28, 2020
Language: English
ISBN-10: B08P9LBWVM
Download File Format:EPUB
Smoking Meat: Smoke Meat, Fish, Vegetable, Game Recipes: By Roger Murphy
The ultimate how-to guide for your smoker, use this complete guide to smoke all types of meat, seafood, veggies, and game. Each of the recipes listed below is chock-full of exciting flavors from around the world. There's something for every palate, from the most adventurous to the most traditional. An essential cookbook for those who want to smoke meat without needing expert help from others. Offers clear instructions and step-by-step directions for every recipe to professionally smoke a variety of food, including beef, pork, ham, lamb, fish and seafood, chicken and turkey, vegetable, and game recipes such as:
TEXAS-RUBBED BEEF BRISKET
APPLE SMOKED PORK TENDERLOIN
DOUBLE-SMOKED APPLE MAPLE HAM
MOROCCAN SPICED LEG OF LAMB
CHERRY SMOKED TURKEY WITH MUSHROOMS
MEXICAN-STYLE SMOKED TUNA TACOS
HONEY BALSAMIC GLAZED SMOKED DUCK
MESQUITE STEAMED AND SMOKED ARTICHOKES
The book includes photographs of every finished meal, helpful tips and tricks on smoker, making BBQ and SMOKING MEAT to make your job easier. This guide also offers up some techniques and recipes that will let you take your smoking to the next level: full blown gourmet food full of layered and nuanced deliciousness.